Quarterly Fly Tin Subscription
Signing up only takes a few minutes. You can cancel at any time.
We pack each tin with a selection of hand-tied flies, selected specifically for the season.
3. YOUR TIN ARRIVES IN THE MAIL
Tins ship out 4 times a year in June, September, December and March on the 10th of the month.
This quarter's tin features a selection of 20 trout flies chosen to be effective throughout the fall months, regardless of where you're fishing.
2. Kreelex - Silver & Gold
5. Yakoda Hot Wire CDC Pheasant Tail
6. Beadhead Pheasant Tail
7. Yakoda Crackleback Midge - Black
8. Parachute Pheasant Tail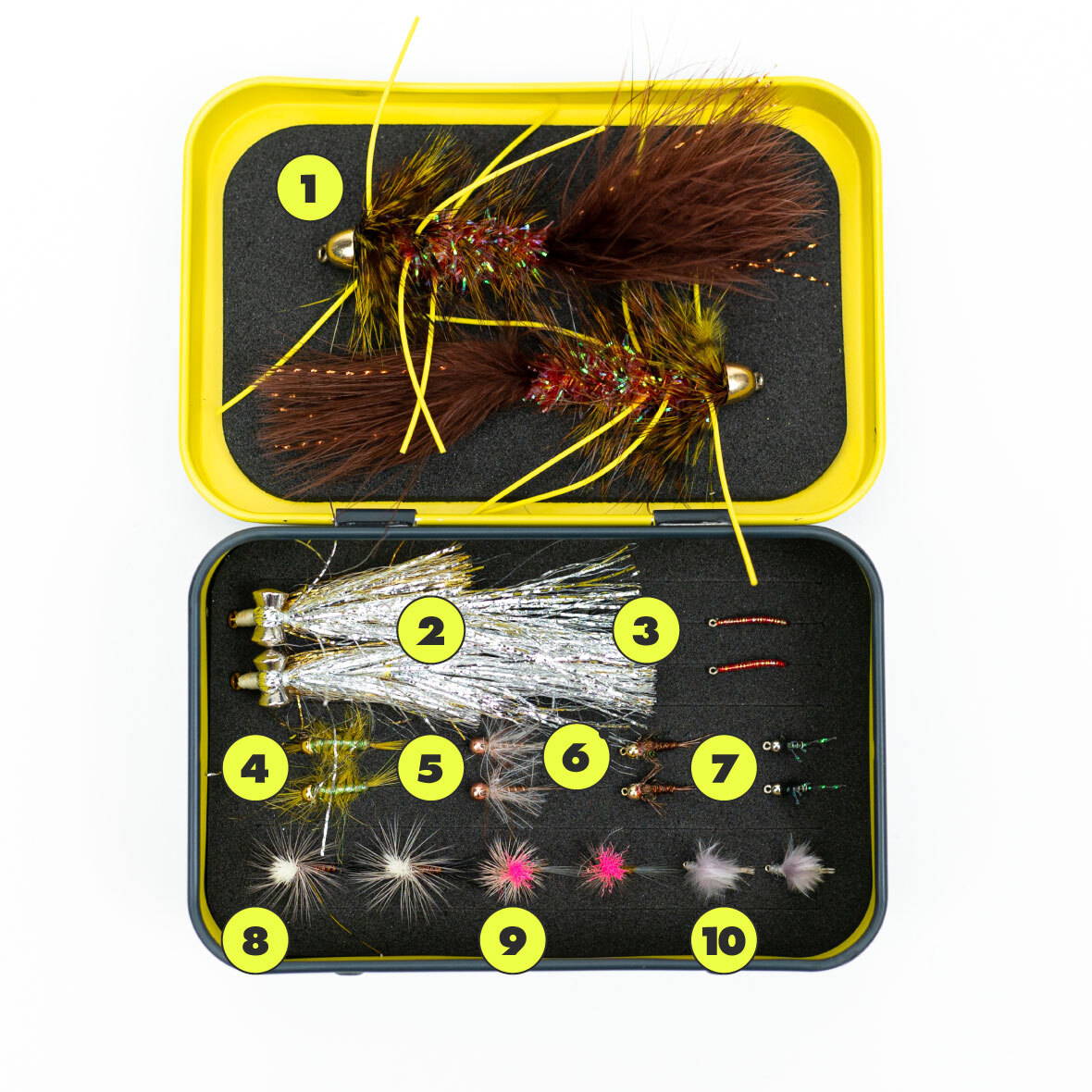 Featured Fly: Trick-or-Treat Bugger
The Trick-or-Treat Buggers mimics the better-known Autumn Splendor tied specifically for Colorado waters by Roaring Fork legend Tim Heng. Capable of targeting many species of trout all the way to smallmouth, walleye, and even carp - this pattern just flat out produces. The conehead helps it sink and easily displace water while the wacky yellow legs are the necessary crazy to turn heads. Fish it by pounding the banks and pockets behind boulders and be sure to try multiple speeds and cadences to find the most effective presentation for that current moment in time.
We only offer a small number of new subscriptions each quarter, available on a first come, first served basis.

Frequently Asked Questions
When will my fly tin ship?
Fly tins ship four times a year on June 10th, September 10th, December 10th, and March 10th via USPS. You can subscribe any day up to the ship date to receive that quarter's tin while supplies last.
Where are your flies tied?
Some are tied in Asheville, NC and others are produced by Montana Fly Company
Can I cancel the subscription?
You can cancel the subscription at any time–even after you receive the first order if you aren't satisfied.
You'll be charged right away when you subscribe for your first tin. After that, you'll be charged on the 1st day of the month of each shipment—June, September, December and March.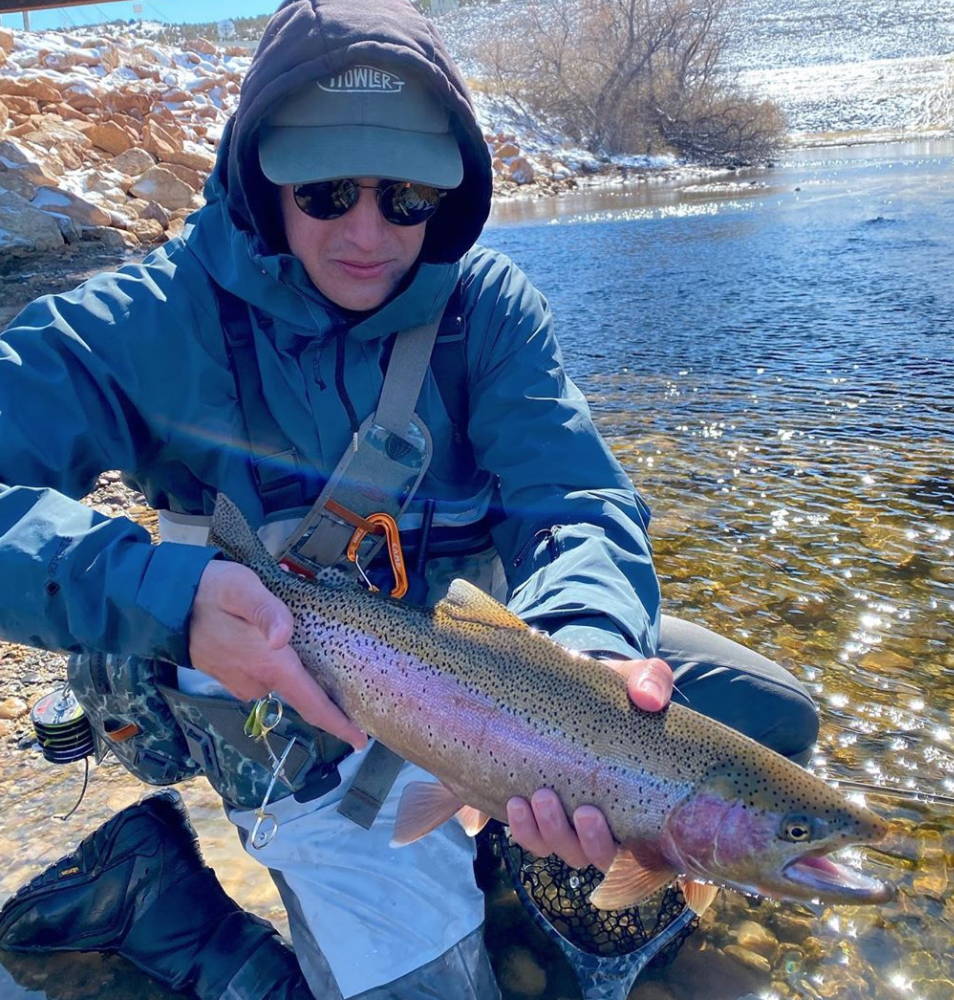 "From the moment I tied the Yakoda H2 Jig on, I was catching fish. This hog happened to be the biggest of the day. The only thing that I wished is I had more after losing the three I had. I'll be ordering more. "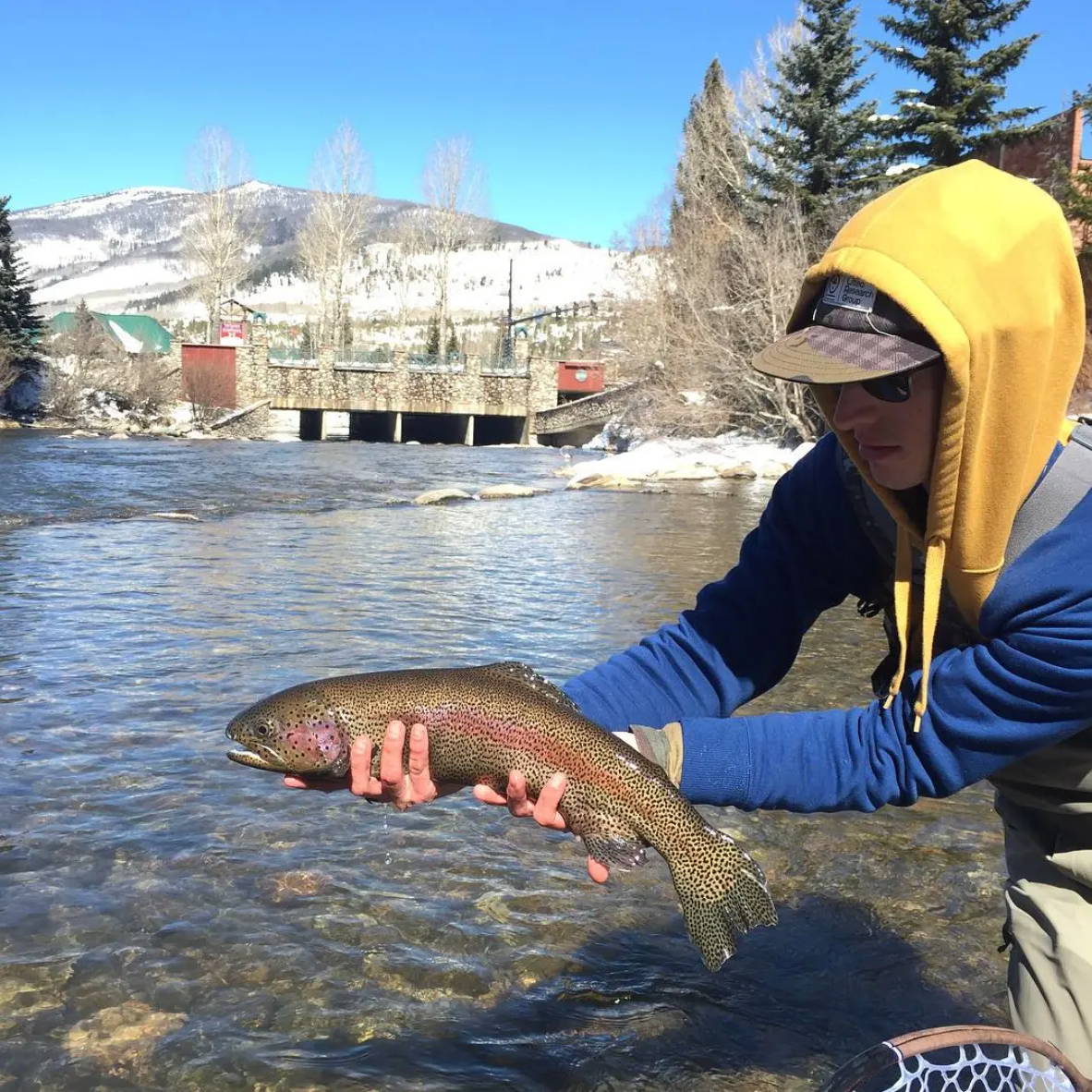 "The Purple Reign has become my confidence fly. It sinks fast, holds up well and seem to catch fish wherever I use it. Fish can't seem to resist."

Customer Reviews
Write a Review
Ask a Question
10/05/2021
Cameron T.

United States
These tins are like wizards…
They always arrive at exactly the right moment. Seriously, the selection is always dialed, and the flies just work. I love it.
10/03/2021
Richard T.

United States
Yakota crew are the best!
This; Uh-Oh Our fly tins didn't arrive from our manufacturer in time for the Fall subscription. We wanted to be transparent and make sure you still got your flies in time. On the positive side, this new sustainable packaging will be available in the future if you want to skip the tin and save a few bucks each quarter. As a thank you for understanding, send Steve an e-mail at steve@ya- kodasupply.com with the subject line Quarterly Fly Tin and the number of your preferred option: #1: Your fly tin, sent to you free of charge around 10/1. or... #2: A $10 Gift Card for our website, sent via email. Thanks for your support, - The Yakoda Crew No need for either option. Keep up the good work. -RT
10/02/2021
Robert G.

United States
Bobs words
Quarterly fly box is the bomb. I'm still a beginner. Gives me season appropriate flys and painless builds my fly box. Couldn't be better
10/01/2021
Christy D.

United States
Enjoying the quarterly fly tins
I really appreciate the email write ups that accompany the quarterly fly tins being sent out to subscribers. As a new fly fisher I am able to enjoy my tin full of bugs a lot more with the insight provided by the Yakoda team. Thanks all!
10/01/2021
Connor B.

United States
Great Tin!
Love getting my quarterly tin. Love these tins and the flies are tied so well. Always can't wait to fish with them. Definitely the best fly subscription out there.
10/01/2021
Mark S.

United States
WOW WHAT A GREAT SET OF FLIES
Fantastic set of flies that will be used on the rivers in Wisconsin and Minnesota! The Yakoda Crew always set up the best for those who are excellent fly fishermen as will as those who are just starting out!
09/30/2021
Kevin C.

United States
Quarterly Fly Tin
I love every fly I've received. Each tin is loaded with flies appropriate for the season that it's shipped. That gives me a ready made fly box for Spring, Summer, Autumn and Winter without the guessing game I used to play when the seasons changed. The flies are unique, not standard fare, and my fishing buddies always want to pilfer my Yakoda boxes Sometimes I even let them, but not often. I usually tell them to get their own! I secretly hope they don't, though, so I can continue to 'out fish' them all! Great flies, tied well, and the fish eat 'em up. What's not to love?
09/23/2021
George S.

United States
The Fall Bugs.
Well last night I did pretty good with the Trick or Treat ******, There is a stretch of River behind the Cabenet factory on the West Branch of the Farmington. Well at near dark I hooked maybe my biggest brown of the season, didn't land him, threw the hook before I could get him to the net, my hands was kind of full a the time. No matter. I am going to be thing this one.
09/17/2021
Michael S.

United States
Quality flies
These are straight up a very nice variety and all usable flies for many situations. Versatile and well made. Trout think they are especially delicious.
08/09/2021
Matthew L.

United States
Great decision
Signing up for the quarterly fly tins was a great decision. Excellent quality, solid selection and I didn't have to go into a fly shop which always ends up costing more! Haha.
08/09/2021
Paul B.

United States
Top quality flies
These tins have the flies that work and are durable.
Net Orders Checkout
| | | | |
| --- | --- | --- | --- |
| | | Subtotal | $0.00 |
| | | Shipping | |
| | | Total | |
---
Shipping Address